Institute of Medicine's Committee to review adverse effects of vaccines January 2010, Working list of adverse events to be considered, Adverse events include Autism and Autism Spectrum Disorders (ASD)/Pervasive Developmental Disorders (PDD) and secondary autism
COMMITTEE TO REVIEW ADVERSE EFFECTS OF VACCINES
WORKING LIST OF ADVERSE EVENTS TO BE CONSIDERED BY THE COMMITTEE
The Committee to Review Adverse Effects of Vaccines met for the first time on April 20-21, 2009. At the open session, staff from the National Vaccine Injury Compensation Program (VICP), which is operated out of the Health Resources and Services Administration, presented a working list of adverse events associated with the four vaccines under review by the Committee.
The presentation by VICP can be found here: http://www.iom.edu/~/media/Files/Activity%20Files/Research/VaccineAdvEffectReview/2009-APR-20/Charge-to-the-Institute-of-Medicine-Committee.ashx.
The working list was updated to include adverse events for four new vaccines the Committee will also review. The working list can be found on the next pages of this announcement. The Committee reserves the right to add conditions to this working list and wishes to receive input.
It is most helpful for the committee to receive comments on the list as soon as possible. Please e-mail the committee at vaccinesafety@nas.edu with suggestions for additions. Please include "Input on Working List of Adverse Events" in the subject line of the e-mail. Feel free to submit a brief rationale and/or relevant bibliography in support of the suggested addition.
Please note: Any comments you submit to the committee, including your name and identifying information, will not be kept confidential and will be included in the Public Access File as the National Academy of Sciences complies with Section 15 of the Federal Advisory Committee Act (FACA). The National Academies shall be authorized to use any such comments or submissions in accordance with the National Academies' Terms of Use Statement.
The Committee has been advised that the VICP is seeking input through the Advisory Commission on Childhood Vaccines (ACCV) into this adverse events working list. The Committee will finalize the list of adverse events to be addressed upon review of any additions requested by VICP subsequent to the ACCV process, as well as suggestions submitted directly to the Committee to Review Adverse Effects of Vaccines.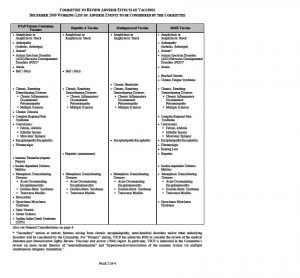 Also see General Considerations on page 4.
* "Secondary" autism or autistic features arising from chronic encephalopathy, mitochondrial disorders and/or other underlying disorders will be considered by the Committee. For "Primary" autism, VICP has asked the IOM to consider the review of the medical literature post Immunization Safety Review: Vaccines and Autism (2004) report. In particular, VICP is interested in the Committee's review on more recent theories of "neuroinflammation" and "hyperarousal/overexcitation of the immune system via multiple simultaneous antigenic stimulation."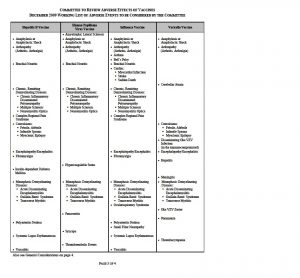 General Considerations
In addition to the specific adverse events, the committee will review general considerations for the eight vaccines. General considerations include underlying (susceptible) populations, "immune dysfunction", vaccine administration issues, anaphylaxis and autoimmune diseases (time interval), and sequential vaccination issues.
https://www.scribd.com/document/378457162/Institute-of-Medicine-IOM-Committee-to-review-adverse-effects-of-vaccines-January-2010-National-Academies-of-Sciences-Engineering-and-Medicine