Andrew Jackson capture at Waxhaw Presbyterian Church April 1781, Held prisoner in Camden, SC, Studied law in Salisbury, NC, Practiced law in Guilford County NC
Andrew Jackson was a courier in the American Revolution and was captured at Waxhaws Meeting House on April 10, 1781.
"Not long after the Dutchman's Creek affair, the British sent a large force from Camden to the Waxhaws, in order to help the local Tories intimidate their opposition. This expedition, commanded by Major John Coffin, was made up of one hundred and fifty troops, including a corps of light dragoons, a company of infantry, and a considerable number of Loyalists. The Patriots of Major Robert Crawford's command turned out to meet this threat, assembling at Waxhaw Presbyterian Church, their regular place of muster. About forty armed and mounted troops were at the church on the evening of April 10, 1781, when the British regulars arrived in force, screened by their Tory militia, "who were dressed in the common garb of the country." The Patriots were taken completely by surprise when a party of enemy dragoons charged up the road to the meeting house with drawn sabers. Eleven were captured and the rest were scattered; the British then burned Waxhaw Church and proceeded to plunder the neighborhood, burning houses and taking prisoners. General Sumter sent Colonels Hampton and Taylor in pur-suit, but they were apparently unable to overtake the enemy force before it returned safely to Camden. Here again is a skirmish that is interesting not because of its intrinsic military significance, but because one of the participants was historically significant. One of the forty Patriots at the church was fourteen-year-o1d Andrew Jackson, the future seventh -president of the United States. On the following morning, April 11, at the home of Lieutenant Thomas Crawford, there occurred the famous incident of Jackson's capture by the British and his refusal to clean a British officer's boots."
http://gaz.jrshelby.com/waxhawsmh.htm
Listen to the story.
https://thehermitage.com/category/potus7-podcast/#
Andrew Jackson studied law in Salisbury, NC.
"William R. Davie had been brought to the United States from England by his parents to live with the uncle for whom he was named, the Rev. William Richardson of the Old Waxhaw Church. The church was a dominant presence in the lives of all who lived in this community. Eventually, the decision had to be made as to where to educate Davie. We know that Davie was sent to Salisbury to study under Spruce Macay. Macay had prepared for college under the Rev. David Caldwell at the Log College in Guilford County, and he then graduated from the College of New Jersey, which is now known as Princeton."
"After Davie was sent to Salisbury to study law under Spruce Macay, he fought in the Revolutionary War with distinction, began a law practice in Halifax and served as our delegate to the Constitutional Convention. Due to Davie's accomplishments, Major Robert Crawford was impressed with Spruce Macay's educational abilities, and he had two young men who needed education and guidance. They were his son, Will Crawford, and his nephew, Andrew Jackson."
"Hendrik Booraem, who wrote "Young Hickory" — considered the most authoritative book on Jackson's youth — said: "Davie's success was another inducement to study law. The young major's career proved that a boy could leave the Waxhaws and do well. He had become a lawyer, won fame in the war (he was now actually Colonel Davie), married the niece of Willie Jones, one of the most powerful lawyers in North Carolina, and lived in a fine house in Halifax."
Jackson's old friend from Guilford, John McNairy, also studied with Macay. Jackson, Crawford and McNairy roomed together at the Rowan House. The three were known as wild and irresponsible law students. These three were full of mischief and perpetrated pranks around Salisbury but they all went on to professional careers."
https://www.salisburypost.com/2017/03/19/presidential-lore-andrew-jackson-crawford-family-salisbury/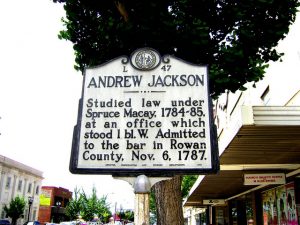 Andrew Jackson practiced law in Guilford County, NC.
From The History of Guilford County.
"Andrew Jackson produced a license from the Judges of the Superior
Court of Law and Equity to practice Law and was admitted an attorney of
his Court." (Nov. 1787.)
(Andrew Jackson was born at Waxhaw, N. C. He removed to Guil-
ford County, N. C, read law at the home of Charles Bruce, at Summer-
field, Guilford County, N. C, became constable in Guilford County, went
to Tennessee with Judge McNairy, and afterward became President of the
United .States, and the head and shoulders of the Democrat Party. While
in Guilford he is said to have enjoyed the sports of cock-fighting and
horse-racing. His old race paths are at Summerfield.) "