Tate Street Coffee House observes anniversary December 16, 2018, 25 years in business, UNCG Tate Street icon, Thanks for the memories
Tate Street Coffee House, an iconic part of UNCG and Tate Street, celebrated 25 years in business on December 16, 2018. Matt and Ann, who founded the coffee shop in 1993 were on hand as well as many current and former patrons and employees.
Many famous and prominent folks have passed through their doors including Branford Marsalis who has performed there.
Many other interesting folks such as my friend, the British Lord, who came almost every day for several years, were part of the memory machine.
He told many interesting stories. But by far, his knowing Tolkien and CS Lewis when in Oxford, was the best.
The coffee shop was packed for the celebration. The signed poster tells the tale.
From the TSCH website.
Opened in 1993, Tate Street Coffee has become an institution renowned for its unique decor and fine coffee
All of our coffees are Fair Trade and Organic, and we offer a dozen different varieties, along with signature lattes, ciders, a great hot chocolate, and of course, bold and invigorating espresso. We truly have something for everyone!
We feature live music with a Jazz Jam on Thursday nights, live jazz Saturday and Sunday mornings, and Irish music on Sunday afternoons- and what better way to enjoy the music than with one of our locally crafted beers, one of our popular sandwiches, or even a glass of wine?
Monthly art shows and an annual community Coffee Art Show attract local talent and add to the shop's cozy atmosphere.
http://www.tatestreetcoffeehouse.com/
Branford Marsalis performing at Tate Street Coffee House.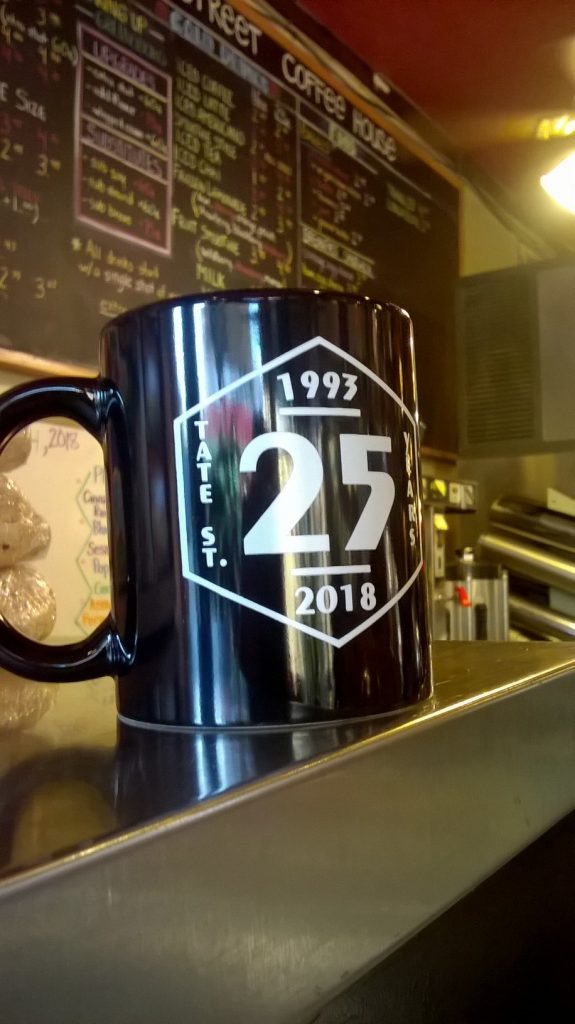 Thanks for the memories.