Greensboro, NC record snow, Third snowiest one day in history with 12 inches of snow, Records go back to 1903
From WFMY TV News.
"RECORD SNOW | Third Snowiest 'One Day' In Greensboro History
It will be another record snow in the books. In fact, it's the third snowiest one day in Greensboro history with 12 inches of snow as of Sunday afternoon. The record dates all the way back to 1903."
"On March 3, 1927, Greensboro received 20 inches of snow. On December 17, 1930, the City of Greensboro received 14 inches of snow and 11 inches on March 09, 1960."
Read more:
https://www.wfmynews2.com/article/weather/local/record-snow-third-snowiest-one-day-in-greensboro-history/83-622405099
From the Greensboro News Record.
"First snow of season buries Greensboro
"Here's the issue with all that snow and sleet we got Sunday:
According to the calendar, it's still autumn — for 11 more days.
A winter-although-it's-still-fall storm dumped a foot of snow, give or take, atop all those leaves we're still raking.
The first snow of the season led the city of Greensboro and Guilford County to declare states of emergency Sunday.
Local schools will be closed Monday.
Most roads are drivable only by the brave or the reckless.
It's a mess out there, folks. And winter hasn't yet begun.
Here's a look at what happened Sunday and what to expect over the next several days:
Snow totals
According to unofficial reports, the National Weather Service said Guilford County got between 9 and 14 inches of snow by midafternoon Sunday.
There were reports of 10 to 11 inches in High Point, 9 to 12 inches in Greensboro, 10 inches in Pleasant Garden, 11.5 inches in Jamestown, 12 inches in Stokesdale and 14 inches in Colfax in the western part of the county.
Elsewhere, Winston-Salem got between 11 and 15 inches of snow, and Burlington saw 11 inches. In Rockingham County, Eden reported 13 inches, and Reidsville 9 inches.
Area residents might wake up Monday morning to another inch or so of new snow and perhaps a little ice."
Read more:
https://www.greensboro.com/news/local_news/first-snow-of-season-buries-greensboro/article_4cd39490-6830-5bf3-b710-a51e797a3668.html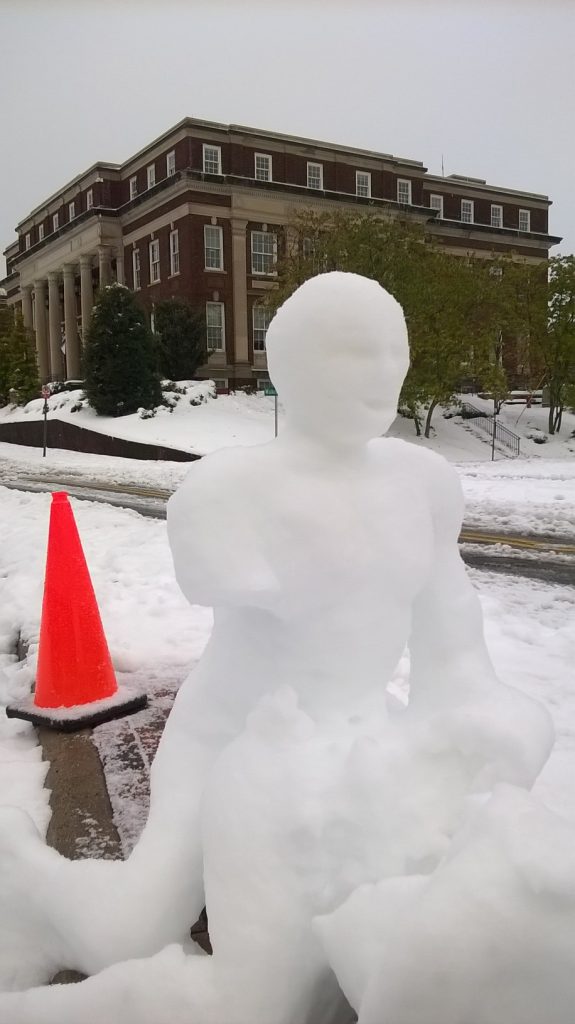 Photos taken near UNC Greensboro.