Winnie the Pooh and Churchill (Winston), Teddy bear from friend who lost his wife several years ago, Pooh they know now, Churchill (my hero) later
My friend Danny lost his wife several years ago.
She had a collection of dolls and stuffed animals.
He has seen me with my grandkids at the coffee shop we frequent.
Recently he asked if they would like a Teddy Bear that his wife used to own. I of course said yes.
I named him Winnie for Winnie the Pooh and Winnie (Winston) Churchill.
They can relate to Pooh now and as they get older, I will use Winnie to introduce them to my hero, Winston Churchill, who played a major role in saving the world from Nazi Germany.
I hope that they will do the same with their children someday.
A way to remember grandpa and Winston Churchill.
And Danny. Thanks.
Wells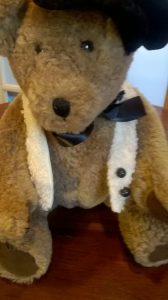 © Copyright 2018 EachStoryTold.com