Edward R Murrow great grandfather transported runaway slaves for Underground Railroad, Andrew Murrow and Isaac Stanley drove false bottom wagon from Guilford County NC to Ohio, Wagon at Historic Jamestown Society
From Tufts University.
"In what he labeled his 'Outline Script Murrow's Carrer', Edward R. Murrow jotted down what had become a favorite telling of his from his childhood.
"Edward R. Murrow, born near Greensboro, North Carolina, April 25, 1908. The third of three sons born to Mr. and Mrs. S. C. Murrow, farmers. About 40 acres of poor cotton land, water melons and tobacco. Earliest memories trapping rabbits, eating water melons and listening to maternal grandfather telling long and intricate stories of the war between the States. This experience may have stimulated early and continuing interest in history."
"Born in Polecat Creek, Greensboro, N. C., to Ethel Lamb Murrow and Roscoe C. Murrow, Edward Roscoe Murrow descended from a Cherokee ancestor and Quaker missionary on his father's side. His mother, a former Methodist, converted to strict Quakerism upon marriage. Ethel Lamb Murrow brought up her three surviving sons strictly and religiously, instilled a deep sense of discipline in them, and it was she who was responsible for keeping them from starving particularly after their move out west. From an early age on, Edward was a good listener, synthesizer of information, and story-teller but he was not necessarily a good student. His name had originally been Egbert — called 'Egg' by his two brothers, Lacey and Dewey — until he changed it to 'Edward' in his twenties. Edward R. Murrow's oldest brother, Lacey, became a consulting engineer and brigadier general in the Air Force Reserve. An alcoholic and heavy smoker who had one lung removed due to lung cancer in the 1950s, Lacey committed suicide in  
1966. Murrow's second brother, Dewey, worked as a contractor in Spokane, WA, and was considered the calm and down to earth one of the brothers.
Understandably and to his credit, Murrow never forgot these early years in the Southern and Western United States and his family's background as workers and farmers. Throughout, he stayed sympathetic to the problems of the working class and the poor. Characteristic of this were his early sympathies for the Wobblies (Industrial Workers of the World) 1920s, although it remains unclear whether Edward R. Murrow ever joined the IWW. By the time Murrow wrote the 1953 career script, he had arguably become the most renowned US broadcaster and had just earned over $210,000 in salary and lucrative sponsoring contracts in 1952. This was twice the salary of CBS's president for that same year.2 In the script, though, he emphasizes what remained important throughout his life — farming, logging and hunting, his mother's care and influence, and an almost romantic view of their lack of money and his own early economic astuteness."
Read more:
https://dca.lib.tufts.edu/features/murrow/exhibit/bio.html
Andrew Murrow was Edward R. Murrow's great grandfather.
From the Mendenhall Homeplace.
"The Wagon
This wagon has been preserved through the interest and good offices of five successive generations in the Centre community, three of which lived in the same "Stanley Homeplace." The wagon has now come to the Historic Jamestown Society as a gift from Joshua Edgar Murrow, deceased in 1980, and his wife, Hazel Richardson Murrow, and their three children, Joshua Edgar Murrow, Jr., of Lawndale, N. C; Mary Murrow Hamilton of Atlanta, Ga., and Gertrude Murrow Sillman of Greensboro, N. C.
If the wagon could talk, it would tell of many exciting and sometimes perilous events. Not the least of these stories would be the ones telling of several trips to Ohio with a load of runaway slaves. The "trains" crossed into free territory at Wheeling, West Virginia, and continued on to a Friend's home in Ohio. The drivers were two young men, selected because they were eager for adventure and because no one would be likely to suspect such young men of "slave-running." The two youths were Andrew Murrow (1820-1908) and Isaac Stanley (1832-1927), who grew up in the home of their foster parents, Joshua and Abigail Stanley, after they had been orphaned. Actually Isaac was a nephew of Joshua Stanley. Andrew Murrow was the grandfather of Joshua Edgar Murrow (1892-1980) who reveled in hearing his grandfather tell of these dangerous and exciting journeys to Ohio.
This historic wagon came to the Historic Jamestown Society through the good offices of Stacey and Ruth Hockett of Pleasant Garden, close and lifelong friends of Joshua Edgar Murrow, Sr., who had received it as a much valued gift from Abigail Stanley Hodgin, daughter of Isaac Stanley Edgar fully intended to re-build the aging vehicle but never got around to it. He gave special instructions to the Hocketts to care for it, and it was from their barn that the wagon finally came to us.
Cecil E. Haworth was instrumental in obtaining the Wagon for the Historic Jamestown Society. The above information was taken from the brochure "Precious Cargo" written by him. The rest of the brochure may be read below:
There is probably only one vehicle left in North Carolina that was used to transport runaway slaves in the days before the Civil War. That vehicle is now the property of the Historic Jamestown Society and is on display at the Mendenhall Homeplace located on West Main Street in Jamestown, North Carolina, opposite the High Point City Lake Park. There is a second wagon, almost identical, in the Levi Coffin House and Museum located in Fountain City, Indiana, on U.S. 27.
The story of the North Carolina wagon is a fascinating one, because it is part of the story of the Underground Railroad."
http://www.mendenhallhomeplace.com/wagon.html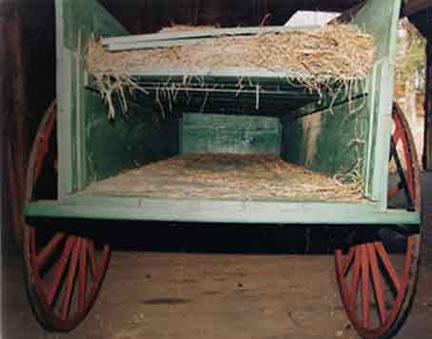 Andrew C Murrow
BIRTH

Guilford County, North Carolina, USA

DEATH

31 Dec 1903 (aged 83)

Pleasant Garden, Guilford County, North Carolina, USA

BURIAL

Greensboro, Guilford County, North Carolina, USA

PLOT

MEMORIAL ID

18153290

 · View Source