Thrivent disability claim denial, My first experience Part 4, Thrivent claim form: doctor forced to use definition provided by Thrivent "unable to work" instead of contract "unable to perform regular occupation", Proof of incompetence or fraud?
In Part 4 it will be revealed why the doctor chose the date of 12/17/01, the date of surgery, instead of an earlier date based on my report and his diagnosis. This appears to be a clear cut case of fraud on the part of Thrivent. This goes far beyond incompetence.
Thrivent letter December 7, 2001, Ann Weyenberg.
A disability prevents performing regular occupation.

And  I am reminded to review the contract.

From a transcript of a phone conversation local Thrivent rep Dave Burnette had with Jen Schroeder on 12/26/2001:
"Dave said that Larry has indicated he was disabled prior to date surgery was performed and is worried about his claim. I explained that in the medical info we received Dr. Aluisio verified insured unable to work beginning 12/17/01 so that was date used to establish period of disability."
They are very careless using "unable to work" instead of the contract language.
Claim form filled out by Dr. Aluisio (smoking gun).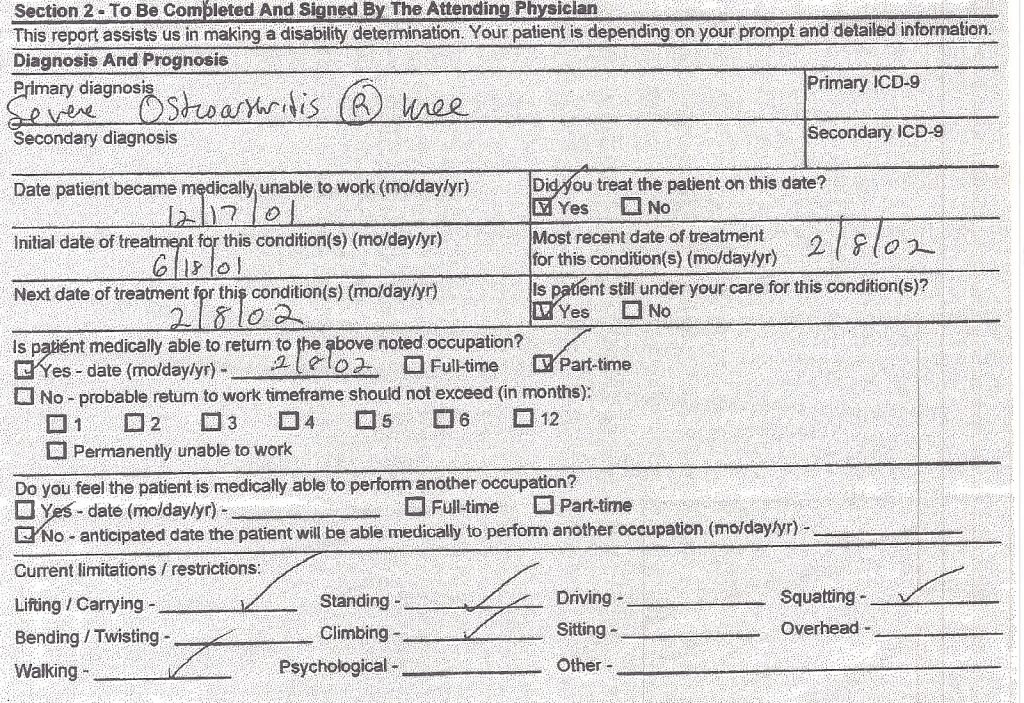 Notice, there is no date of disability per the contract language, the date unable to perform regular occupation.
Date patient became medically unable to work does not match the contract and is a Social Security definition.
Notice below that "Is patient medically able to return to the above noted occupation?". Now they use contract language.
Notice part-time checked.
"Do you feel the patient is medically able to perform another occupation?" No checked.
Under Current limitations / restrictions: Standing and walking checked. The doctor and Thrivent had been notified that walking was an integral part of my profession.
Furthermore, the diagnosis from June 18, 2001 revealed a funtional loss and pain.

Clearly the date of disability should have at least been somewhere between 6/19/01 and prior to surgery on 12/17/01.
I had several conversations with Thrivent personnel about the wording, each time I was ignored. Apparently the worker bees had no concept of the contract and probably believed that "unable to work" was perfectly acceptable. Management and legal staff should know better.
On February 4, 2002 I had a lengthy conversation with Sandy Kruse. She appeared confused when I requested clarification of the term "earned income." She had no concept of what I was talking about. I was still in pain and frustrated with Thrivent's attitude. I called form DL259, that the doctor filled out a disgrace and the process as sleazy. Incompetent and/or evil are probably more appropriate.
After going round and round with Thrivent and getting nowhere, an attorney suggested I file a complaint with the NC Insurance Commission. I did so.
NC Insurance Commission complaint.
"An attorney advised me to file a complaint with the NC Insurance Commission. I did so on September 24, 2003."
"After the so called investigation, the Commission responded.

As you can see, they take Thrivent's word and do no real investigation. They did not contact me with questions or for more input.
However, it was not a total waste of time.
This proves that Thrivent believed they were bound by NC insurance laws.
This proves that Thrivent continued their incompetent/fraudulent position of using "unable to work" instead of the contract language and had the gaul to maintain their position with the NC Insurance Commission. Misrepresentation.
Finally, Thrivent's Ann Weyenberg, who wrote the December 7, 2001 letter quoting the contract correctly then, sent the following to the Insurance commission in a letter dated .October 14, 2003.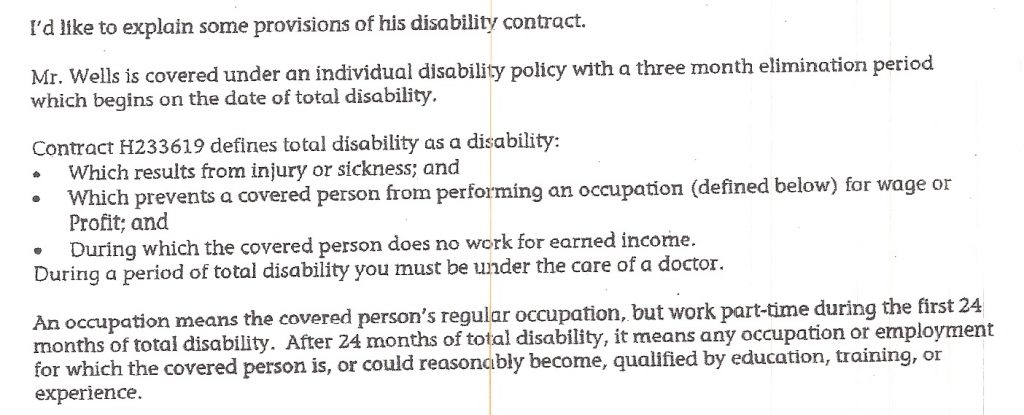 Ann Weyenberg begins:
"I'd like to explain some provisions of his disability contract:"
Really?
Notice that after "An occupation means the covered person's regular occupation," "but work part-time during the first 24 months of total disability." does not match the contract language or the letter from Ann Weyenberg (see above) dated December 7, 2001.
Thrivent misrepresented the policy to the NC Insurance Commission!
Incompetence or Fraud?"
Read more:
http://eachstorytold.com/2018/07/10/thrivent-disability-claim-denial-complaint-to-nc-insurance-commission-no-investigation-just-echo-of-thrivents-statements-did-prove-thrivent-bound-by-law-and-their-misrepresentation/
In a letter dated August 14, 2004, Dr. Aluisio states why he used the date of surgery as the disability date.

It is obviously not the definition used in the policy. It is, as shown above, what Thrivent used on the claim form.
I do not know when Thrivent corrected the claim form, but if you retrieve one online now, this is what you see.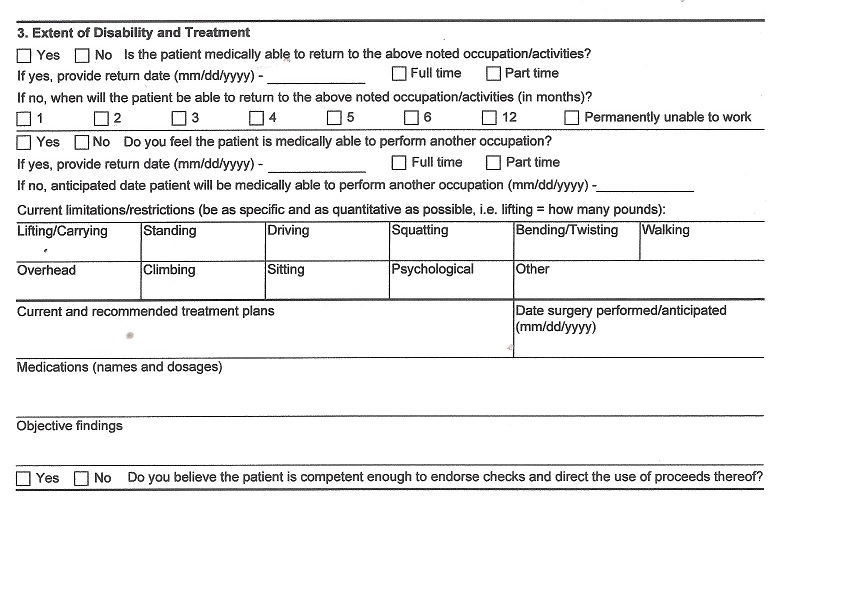 "Date patient became medically unable to perform activities listed above (mm/dd/yyy)", which is correct replaces "unable to work".
There is no statute of limitations on arbitration in NC and no mention of one for an appeal by Thrivent. An appeal should be filed. That is if I am bound by their retroactive Bylaw amendments.
This was misrepresented to the NC Insurance Commission. Will they review and/or prosecute?
"Thrivent members look for and expect Thrivent to provide benefits according to the policy," …Thrivent,  Star Tribune December 20, 2014
In Part 5 I will reveal the rest of the story, my education on disability claims, how this became a much bigger struggle than anticipated, the impact on my life then and later and even why I kept paying on the policy.