Clara Korner known as Aunt Dealy former slave buried in family plot of Jule Körner builder of Körner's Folly, Kernersville, NC
Körner's Folly in Kernersville, NC, built by Jule Körner, is listed on the National Register of Historic Places.
It is known for its unusual architecture and decorations for Christmas.
From O'Henry Magazine December 2018.
"At first glance Körner's Folly appears to be the stuff of that old saw, "a riddle wrapped in a mystery inside an enigma." But look closer, and you'll discover it's an extension of the man who built it, Jule Körner. Perched right on Main Street in downtown Kernersville, (the town having been named for Jule's grandfather, Joseph Körner), the imposing Victorian brick house with the steep gabled roof is a product of Jule's restless ingenuity and marketing savvy. Not to mention his "tongue-in-cheek" sense of humor, says Dale Pennington, executive director of the site, listed on the National Register of Historic Places. "There was method to his madness," she says. Both of which were apparent in Jule's early career."
"At Yuletide, Körner's Folly quite literally shines. "If the house is over-the-top now," says Pennington, "at Christmas it's to the nines." In late October local volunteer groups, each of which has "adopted" the Folly's 22 rooms, start decking the halls, a process that continues through Thanksgiving, just in time for holiday tours. These, says Pennington, began about 15 years ago, but ramped up in the last decade. In the last five years, candlelight tours and additional puppet shows were thrown into the mix.
The decorations must be period appropriate. After all, the Victorian era, again because of mass production and middle class expansion, not to mention that other icon of the day, Charles Dickens' A Christmas Carol, gave rise to many of our modern holiday traditions: Christmas cards, ornaments, ham and turkey dinners, eggnog, and of course, Christmas trees and garlands. Decorators have leeway to interpret a yearly Victorian theme. Last year's was "Victorian Christmas Traditions," this year's, "A Körner Family Christmas." Pennington says the Folly staff encourages the use of Moravian decorations, including the distinctive Moravian stars, in keeping with the family's heritage. But they do make a couple of concessions to modernity and safety: Given the age of the house, greenery must be artificial (though of such high quality as to look real); and no actual burning candles are allowed so as to prevent the house from going up in a blaze as it could easily have done in the Körners' day when son Gilmer slept under the Christmas tree with a bucket of water handy."
Read more:
http://www.ohenrymag.com/folly-jolly/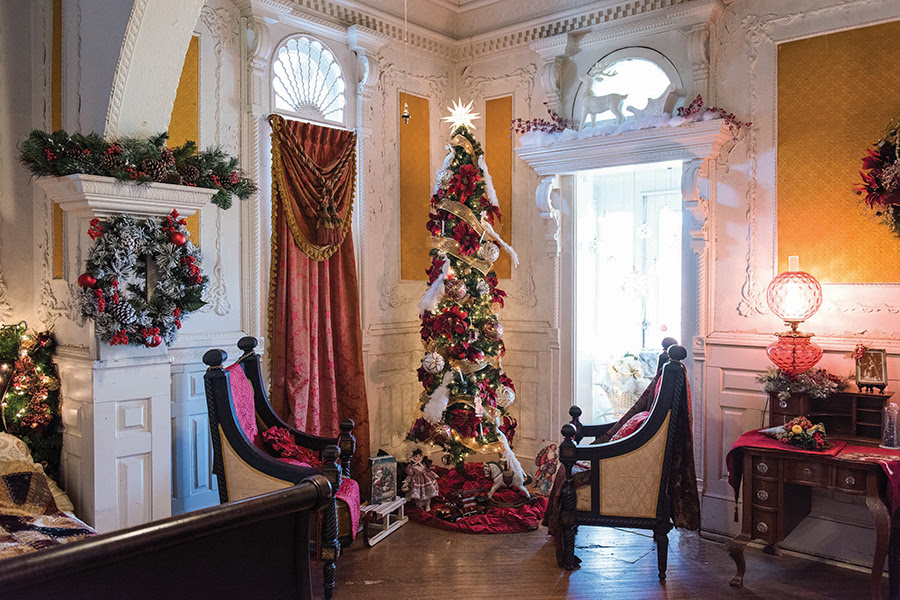 The rest of the story is more interesting.
Also from O'Henry Magazine.
"Separate and Equal
Though known as a creative visionary with an irreverent sense of humor, there is another side to Jule Körner, evident in the cottage that stands behind Körner's Folly, containing the site's gift shop and administrative offices. Known as Aunt Dealy's Cottage, it was the residence of Clara Körner, nursemaid and surrogate mother to Jule Körner, whose biological mother died when he was 2 years old. As a slave owned by a family in Salem, just down the road, Clara had been hired by the Körners to care for Jule and his siblings (who gave her the nickname "Dealy," a variation of "Dearie"); the family later bought her freedom, but she chose to remain with them, drawing income from rental property in Winston that Jule's father, Philip, had bequeathed to her.
So revered was Aunt Dealy that every year, on the anniversary of Abraham Lincoln's death, Jule Körner would hang black swags across the Folly's windows and porches. "It was unusual for this area, says Dale Pennington, the Folly's executive director. "To me, it speaks to someone who didn't much care what people thought." And when Clara herself died in 1896, a funeral, officiated by a black pastor was held on the Folly's north lawn, drawing an integrated crowd. Refused burial in the whites-only cemetery in the Moravian church across Main Street, Clara's body was interred in the Körner family plot — a standalone piece of property bordering the church graveyard that Jule purchased — separate in death from the rest of the Moravian congregation, but equal among Körners. -N.O."
From Korner's Folly History.
"Clara Körner was born a slave in 1820; she was of both African American and Native American heritage.  At that time, a John Kinnamon of North Carolina owned Clara and her family.  Clara worked for Kinnamon until she was fourteen years old, when, in 1834, Philip and Judith Körner hired Clara as Judith's personal maid.  As ardent Quakers, the Körners never owned slaves though they would "hire" slaves to work for the family."
"For an African American in the mid-nineteenth century, Clara experienced many unique privileges.  When Philip Körner passed on, he left Clara rental property and a tenant house in Winston, North Carolina.  As a property owner, she earned money by renting the buildings.  She also spun wool in her spare time, selling her product for profit.
In 1896 Clara died. Clara's funeral was held at Körner's Folly on the north lawn. A black minister and a white minister presided over her funeral, and the large crowd in attendance was both black and white.  The Körners planned Clara's burial in the Körner family plot in the Moravian cemetery.  However, at that time, the Moravian cemetery was a "white only" cemetery, so the church refused Clara's burial.  This infuriated the Körner family, especially Jule, who thought of Clara as a second mother.  Unable to persuade the church, Jule purchased a strip of property that bordered the cemetery.  He then buried Clara there, and built a brick enclosure around the Körner family graves and Clara's grave, so they became a unified family grave site.  To this day, the Körner descendents are still laid to rest beside Clara in the Körner family plot."
Read more:
https://www.kornersfolly.org/explore/history/