Thrivent Financial law firm attorneys, Attorneys control Thrivent?, Laws regulations delay and deny tactics supersede Christian love
My experience with Thrivent has revealed that apparently attorneys control Thrivent instead of being guided by their touted "core Christian values."
Former CEO Brad Hewitt at a meeting in 2014 spoke of Thrivent's history being based on Martin Luther's "Fraternal Agreement" which contained the phrase "This is done for the honor of God and the love of fellow Christians,"
Reported here:
"The following quotes by Luther and taken from the above, are particularly relevant in accessing how well Thrivent has embraced Luther's Christian intent:
"matters are to be determined by Christian love and not by strict human justice."
"Now there is no greater service of God than Christian love which helps and serves the needy, as Christ himself will judge and testify at the Last Day, Matthew 25[:31–46]."
"This is why I said that Christian love must judge and act in this matter; it cannot be handled by laws and regulations."
From my experience with Thrivent, they have utterly failed."
http://eachstorytold.com/2018/11/11/thrivent-ceo-brad-hewitt-history-goes-back-to-luthers-fraternal-agreement-luther-matters-determined-by-christian-love-and-not-by-strict-human-justice/
From a review 2/1/2017.
"Avoid Thrivent at all costs. Be ready to surrender half your life to prove you have a valid claim.  Awful customer service.  They won't answer you back on the telephone – despite their claim of being a "fraternal" organization.  They have no common courtesy.  The agent walked away from providing needed assistance… he claimed Thrivent's "legal department" told him to not get involved.  Thrivent threw up roadblock after roadblock to avoid paying out on a claim.  Snakes."
https://www.revdex.com/reviews/thrivent-financial/1767688
Based on the premise: "If it looks like a duck, swims like a duck, and quacks like a duck, then it probably is a duck",
Thrivent must be a law firm and sure enough a search on "Thrivent attorneys" yields: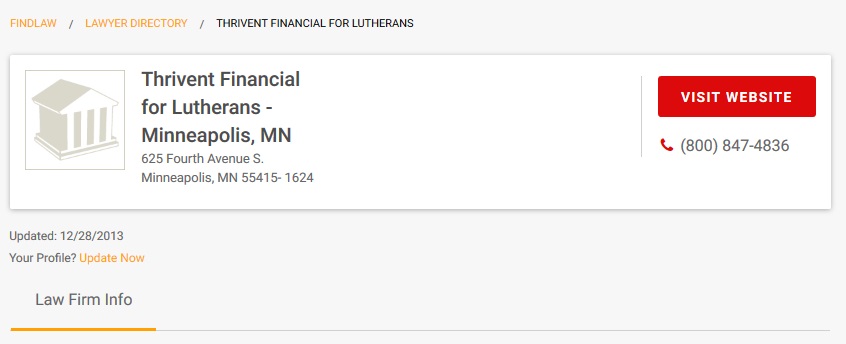 Attorneys
Bussey, Dean Lynn (Attorney)
Edinger, Richard Edward (Attorney)
Hayman, David Michael (Attorney)
Horgen, Cindy Lu (Attorney)
Kleven, Richard J. (Attorney)
Meehan, Timothy S. (Vice President, Managing Counsel – Corporate Law & Compliance)
Nogle, Marlene J. (Attorney)
Odland, James M. (Attorney)
Podell, Kenneth E. (Attorney)
Rasmussen, Teresa J. (Senior Vice President, General Counsel and Secretary)
https://pview.findlaw.com/view/4271900_1

Attorneys at This Firm
Brett L. Agnew Atty III
Norma Anne Brink Asst. V.P. & Gen. Coun.
Christopher W. Brownell Atty III
Rodney Alan Dewalt Atty
Charles G. Egli Asst. Gen. Coun.
Woodrow Eugene Eno Sr. V.P., Secy. & Gen. Coun.
Eric J. Guerin Supervisory Atty.
David M. Hayman 2nd V.P. & Asst. Gen. Coun.
Frederick D. Kelsven Asst. Gen. Coun.
Lisa A. Leister Atty
Jack William Lemke Sr. Coun.
Cynthia Kruse Mueller Sr. Coun.
Jessica Philleo Supervisory Atty
Robert G. Same Pres., AAL Cap. Mgmt. Corp.
Kevin C. Schuller
Heather Thenell Estate Protection & Retirement Plng Atty
Sara Jo Turner
Firm Size 17
https://www.lawyers.com/appleton/wisconsin/thrivent-financial-for-lutherans-1788087-f/
Thrivent has used numerous outside attorneys and law firms.
For example.
From the Kirkman & Ellis Law Firm.
"Aid Association for Lutherans Sales Practices Litigation
In a lengthy representation, Kirkland defended Aid Association for Lutherans (AAL), the largest fraternal benefit society insurer, in multiforum litigation regarding AAL's whole life and universal life insurance salespractices as well as the Society's mandatory member dispute resolution program. On the regulatory front, Kirkland defended AAL when the Missouri Department of Insurance challenged AAL's mediation and arbitration program in a lawsuit in the Western District of Missouri and the court upheld AAL's program.& Kirkland also represented AAL before several other state insurance departments (e.g., New York, Illinois, Minnesota) that inquired about the validity of AAL's program and resolved the matter without the regulators taking any adverse action. Similarly, Kirkland obtained a series of victories for AAL in federal and state court enforcing the Society's program, compelling individual arbitration of plaintiffs' putative class action claims more than fifteen jurisdictions. The first such decision resulted in the Seventh Circuit's opinion in Hawkins v. Aid Association of Lutherans, 338 F.3d 801(7th Cir. 2004).
Thrivent Financial Sales Practices Litigation
Kirkland took over representation of Thrivent Financial, a large financial services company with more than $73 billion in assets under management, on the eve of a trial of a certified MDL sales practices class action pending in the District of Minnesota. Plaintiffs had asserted that Thrivent and its predecessor fraternal benefit society, Lutheran Brotherhood, had engaged in misleading marketing of whole life and universal life insurance policies. Kirkland obtained a very favorable settlement wherein the District Court recognized the laudatory findings state regulators had made about the integrity of Thrivent's sales practices. Thereafter, Kirkland represented Thrivent in a mass arbitration of opt-out claims arising from the MDL settlement, which resulted in the arbitrator awarding claimants less than three percent of their claimed damages."
https://www.kirkland.com/sitecontent.cfm?contentid=218&itemid=707&displaymore=1